Gymnastics COMPETITION RULES
ROUTINES
AmeriKids routines are posted on the website. These routines are "open ended" by design -- meaning the skills may be individually reversed -- and the routines allow for extra steps to reverse skills. If a particular State or group of clubs (for example a league or multi-state area) wishes to change any parts of these routines, it would require a vote of the AmeriKids clubs within that state or group. Any changes made will then need to be made available and sent out with the meet information to the affected clubs where applicable.
All of the routines as posted on the AmeriKids Gymnastics website will be used at the National meet. Any State or group that changes the routines will need to use the original routines for athletes attending the National meet.
AGE GROUPS
Age of the gymnast will be determined on the first day of their competition at Nationals. It is recommended that age at local meets should also be determined by the age on the day of competition.
Single age groups will be used at Nationals and groups of 30 or more will be broken by birthdate into smaller groups. Age groups of less than 3 athletes may be combined with an adjacent age. Age determination and groups for local meets may be determined by individual meet directors. It is also suggested that age group information be sent out with the meet invitation.
COMPETITION FORMAT
Nationals will use a "modified capital cup" format (warm up one event then compete that event) when possible. Traditional format or capital cup may be used as well to make the meet flow smoothly. Every effort should be made to complete warm up, competition and awards in a timely manner.
QUALIFICATION FOR NATIONALS
At the current time any registered AmeriKids athlete is eligible to attend a National competition. It is suggested that they attend a local competition or their State Championships where available.
SANCTIONING/HOSTING AN AMERIKIDS COMPETITION
AmeriKids sanctioned events will be posted on the website as soon as the Sanction Request and the appropriate fee is received in the National Office. Contact info for your event will be posted as well as other meet information so it will be to your advantage to submit a Sanction Request Form as soon as possible. We are getting daily calls requesting information on meets in many areas of the country.
A date for an event will be determined by the AmeriKids member club. As an area grows it is suggested that an area club committee or meeting is organized to develop a calendar of local or state meets.
SANCTIONS FEES
$ 25 - One day, local event
$ 45 - Two or more days, local event
$ 60 - State competitions
$120 - Regional and National events
It is the responsibility of the event director to:
Submit a Sanction Request Form and the appropriate fee for all events requested (one form per event requested) 21 days prior to the event to the National AmeriKids Office. Requests received less than 21 days prior to the event may not be posted on the website. The approved Sanction Report form will then be sent to the event director by e-mail.
Mail fees to:
AmeriKids Gymnastics
Mike Stanner – National Chairman
11222 Kentucky Road
Papillion, Nebraska 68133
Verify insurance status of host club and submit appropriate documents.
Verify that all equipment specifications are correct and the equipment is properly installed. Consider all reasonable safety measures when setting up the competition areas. Verify that gymnasts have included their AmeriKids athlete number on the entry form. You may request a list of registered athletes from the National Office (e-mail Sharon at stannerjm@aol.com) to make sure all athletes are registered.
Contract judges consistent with the local area norms.
Submit the required sanction report form within 7 days of meet conclusion. Reports may be returned by e-mail.
AWARDS

LOCAL
At local competitions, we suggest presenting a minimum of 50% + one for individual events and 100% awards in the all around. Many current clubs who are actively competing are using 100% ribbons for individual events and small medals, placques or trophies for all around. Attaching each child's individual event awards to the all award presentation will reduce the time allotted for awards and help satisfy the spectators. Team awards are at the discretion of the meet director
STATE
Those states holding State competitions are observing 50% + one for individual events – and 100% medals for all around.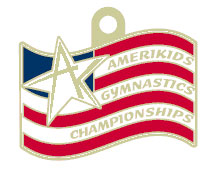 *The above pictured award is an example, the awards change every year.
NATIONALS
At Nationals, all awards will be presented by each individual event and all around score (on the award stand if possible) recognizing each child's performance. Awards will be given in each level by individual ages and large age groups will be divided where necessary. Medals will be given to 50% + 1 in each of the individual events. All around award plaques will be given to 100% according to the all around score for each participant. No team awards will be given at the individual National Championship Meet. Additional awards for high score in each session, and/or other awards may be given
RIBBONS
An event host may contract for their own ribbons or other awards for invitational or local meets.
MEDALS
We do have AmeriKids State Medals available at cost plus shipping. Medal sample pictured above. AmeriKids State medals are available from the National Office. Order forms are available on request from the National Office.
Contact Tom at TomGymnet@aol.com for member deals on trophies or other awards.